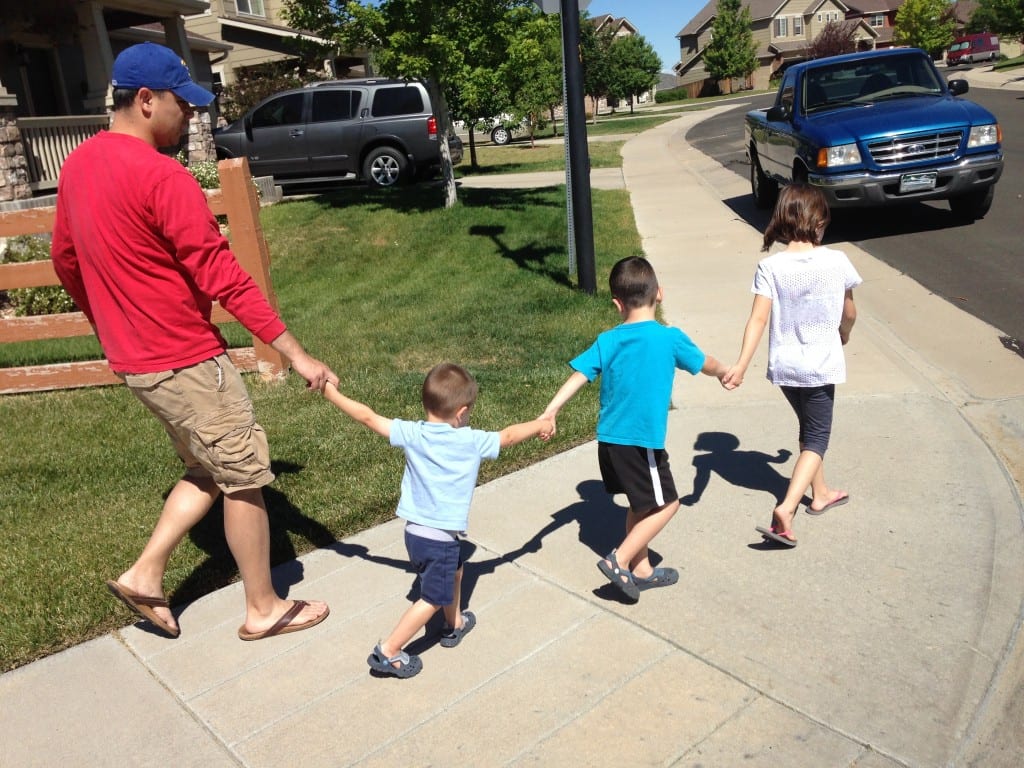 Summers and vacations are best seen through a kid's eye, but remember to look both ways.
My nephew Jason, his wife Valerie, and their kids recently descended on Colorado for their summer vacation. They stopped by my place on their way up to the mountains and Breckenridge. They arrived late Friday night with the kids already asleep.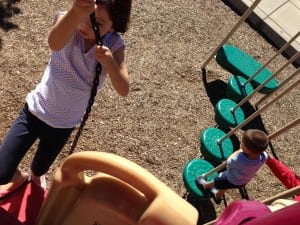 The next day started off with going out for breakfast and then burning off energy at the local playground before driving up into the mountains. When I grew up, play grounds had jungle gyms, which were more like metal death traps.
Today they have these incredible creations of slides, ladders…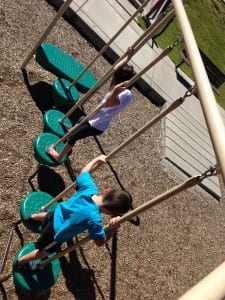 stairs, intercoms, periscopes, music chimes…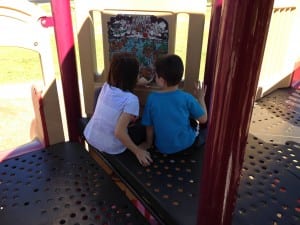 treasure maps, and…
of course, a pretend ship's wheel.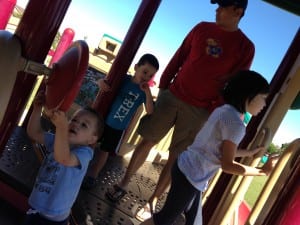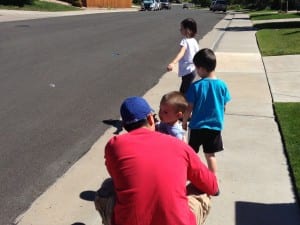 When you're young, the world is a class room. Here the youngest gets a little instruction on to not run out into the street when your father is yelling to you not to run out into the street.
Now that's better.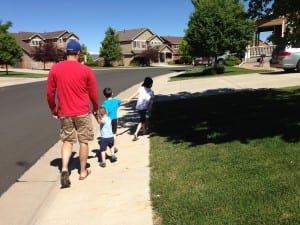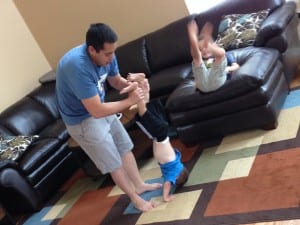 After a few days up in the mountains the vacation moved on to my other nephew Mark's and his wife Amanda's house in the Springs.
I drove down to join in the fun or as my sister calls it "mayhem."
That night we ate out at one of Amanda's favorite childhood haunts, Fargo's Pizza Company.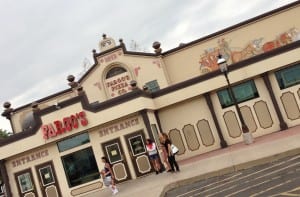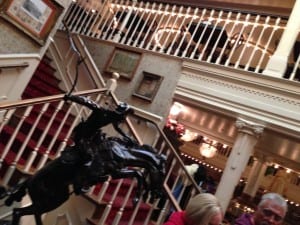 This is quite the place with two levels, a player piano, and of course pizza.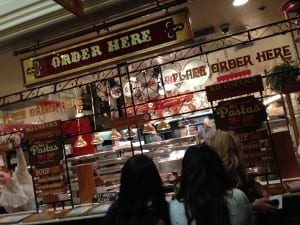 Afterwards, Amanda asked me what I thought of the frocks that the waitresses all wore. Looking at this photo I now see the extravagant frock and understand what they were talking about.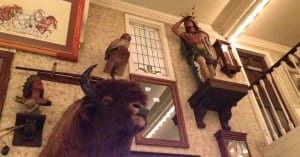 But at the time I was thinking – Waitresses, what waitresses?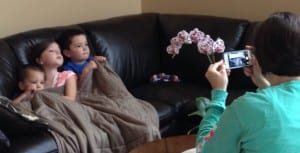 Later than night we calmed the restless with the cartoon movie Ratatouille. This was the first time I had watched Ratatouille. When it first came out I had wondered how can you make a cartoon film about a rat who is a chef in Paris. But the story actually works and entertains, amazing.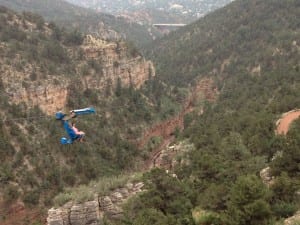 The next day we visited the Cave of the Winds, which has a zip line ride.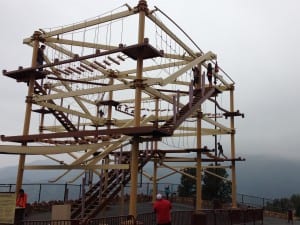 They also have this contraption. It's sort of an elevated obstacle course where they hook you up to a harness and you climb and balance your way up, down, and around this thing.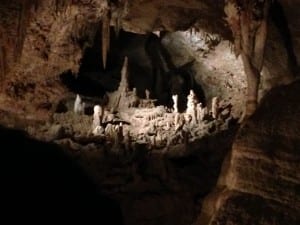 That actual cave was cool, but caves don't make for great phone photos.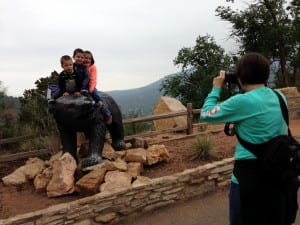 But bear sculptures…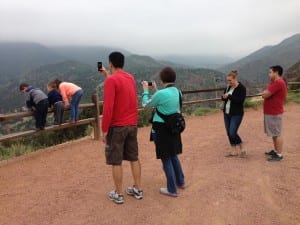 and the parking lot make for great photos.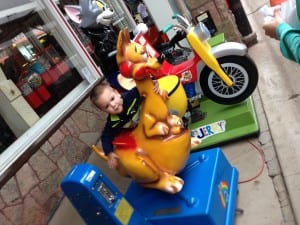 Mark and Amanda then took us to this wild penny arcade in Manitou Springs.
I remember these little rides when I was a kid. I always wanted to ride them and my parents always refused. So I encouraged the kids to ride these as much as they wanted.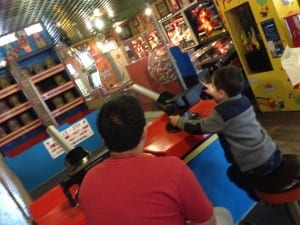 These cannons were a favorite.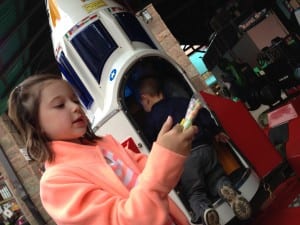 The games dispensed these tickets which the kids traded in for candy and toys that cost a fraction of the games. What a racket—but they kids loved it.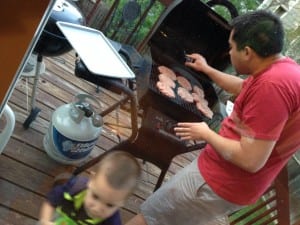 What would the Fourth of July week be without grilling?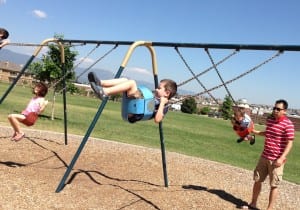 The next day everyone headed back home, but before being locked away in a mini-van for seven hours, you have to burn off some energy.
I've enjoyed every place I've ever lived, Boulder, San Diego, Los Angeles, and Washington, DC. When I left Kansas after high school the last thought on my mind was spending more time with family. If you would have told me back then, how important family would be to me now, I would have thought you insane. But after moving back to Colorado, well, call me crazy.