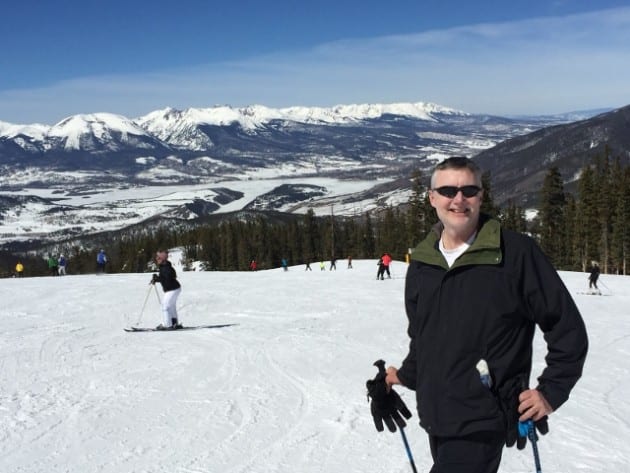 Here in Colorado March is the busiest month for the ski resorts. It's spring break in the mountains. For me spring break conjures ups memories of college. So when Chris, an old college buddy of mine, contacted me about going skiing for a week, I jumped at the opportunity.
Chris lives out on the East Coast so whenever he visits he likes to catch up with some of our other college buddies here in Denver. First buddy we met up with was Mark.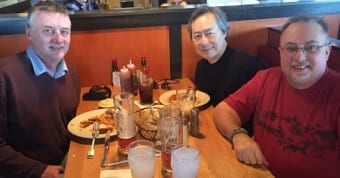 Back in the day we used to play tennis. Today, I don't think any of us can run around a tennis court much less return a serve. That's the beauty about skiing; you don't have to run, just stand and not fall down.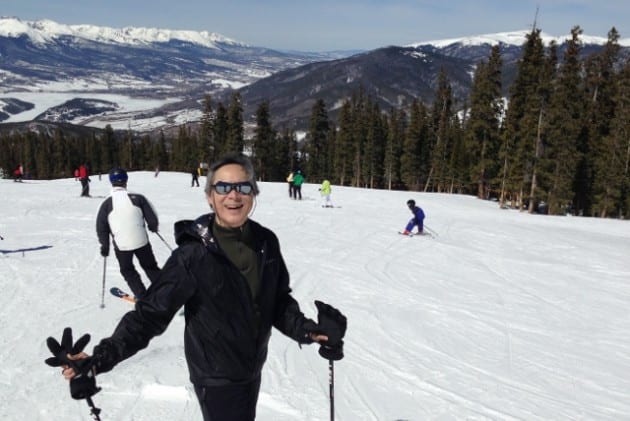 We visited Keystone Resort the first day. As you can see, it was a warm sunny day, perfect spring ski weather, with just the right mix of snow and slush.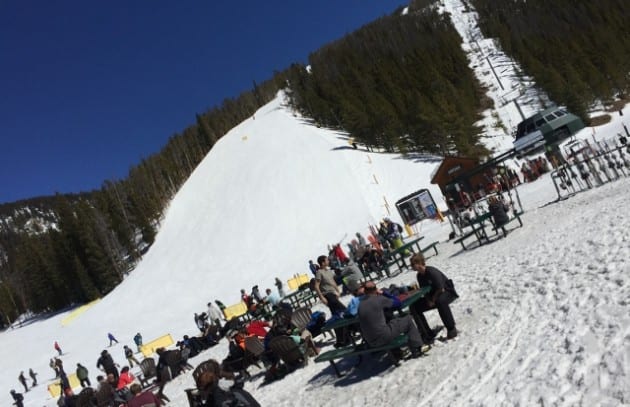 There's nothing more wonderful than lunch up on the mountain, basking in the sunshine, and enjoying the aroma of burgers cooking on the grill.
That evening we stumbled onto a great little restaurant in Frisco called Boatyard American Grill.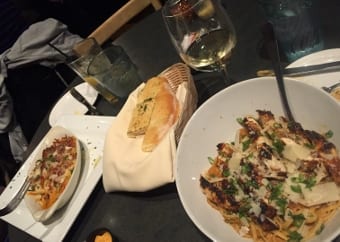 Chris had the Lasagna and I had the Linguine Creole. The atmosphere and service were great and the food delicious. I highly recommend you give them a try if you're ever in the area.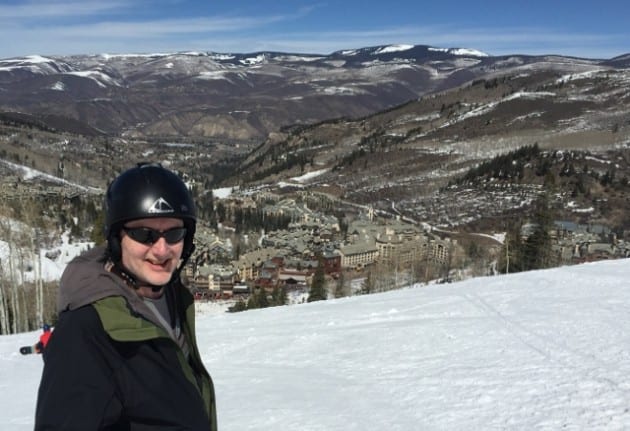 The next day we hit Beaver Creek…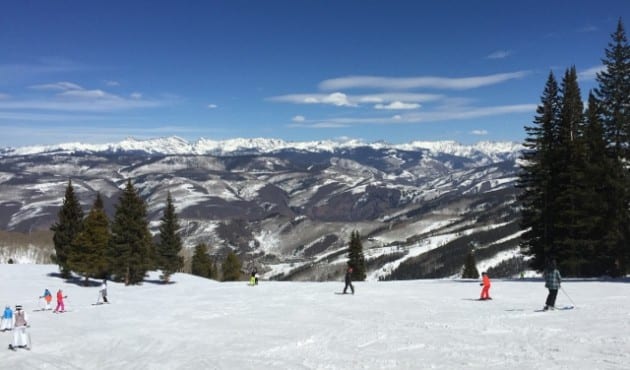 And enjoyed another beautiful spring ski day.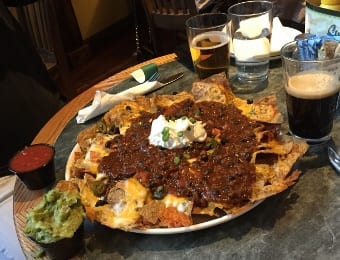 That night I introduced Chris to the Dillon Dam Brewery and the Nachos San Luis a.k.a. the Macho Nachos. I've waxed long about this dish on my blog before and how my nephew Mark and I have tried on countless occasions to finish this beast off only to fail every time. Chris and I fared no better, but it was well worth the effort.
The next two days we skied Vail.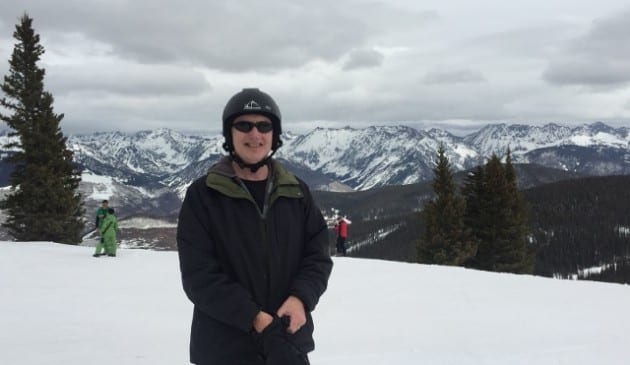 We lucked out and got 5-6 inches of fresh snow our second day. It was some of the best spring skiing I can remember. The back bowls were spectacular. Now the difference between Vail and any other ski resort is its sheer size.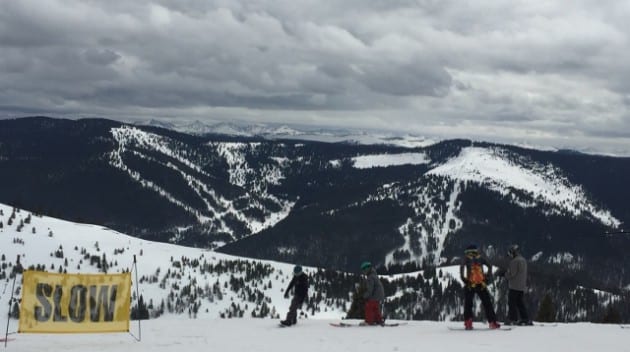 This photo shows part of the back bowls of Vail. Those riders in the foreground stand on the edge of China Bowl. Those ski runs in the distance make up Blue Sky Basin. On the other side of that ridge between China Bowl and Blue Sky is another bowl called Siberia. Behind us are another two bowls and the entire front side of Vail Mountain. The resort is enormous.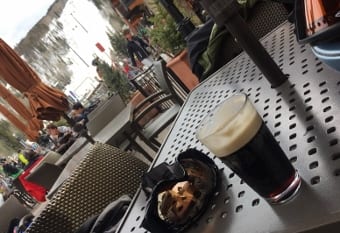 By the end of our second day at Vail we were tired and sore. We ended the day with a brewsky in Lionshead.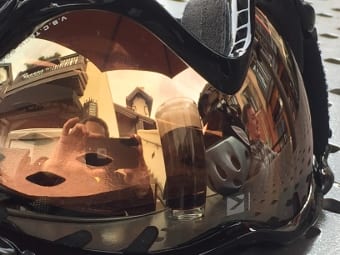 Being exhausted can be a good thing. A little fun and recreation helps to refocus the soul.
On our way back from the mountains we stopped off in Broomfield to touch base with John, another college buddy.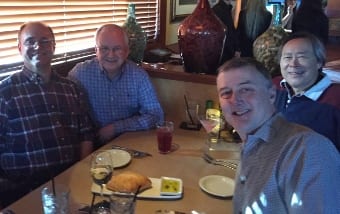 That's John on the left with his husband Keith. It was great catching up with them. You can never have too many good friends.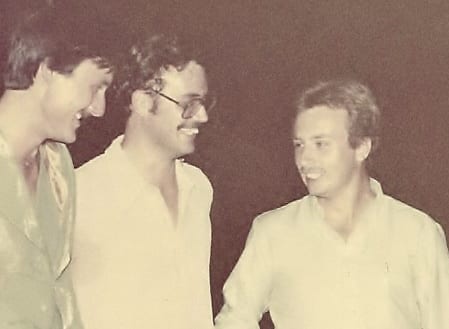 It was great seeing my college buddies Chris, John, and Mark again. It's amazing to think about all that has happened since we hung out together in college up at Boulder. We're no longer in the springtime of our lives, but we can still enjoy each other's company and laugh over old times, and that's what really matters.