Mark and Amanda came up yesterday to attend a wedding in Lakewood and spent the night up here with me. So you know what that means—breakfast!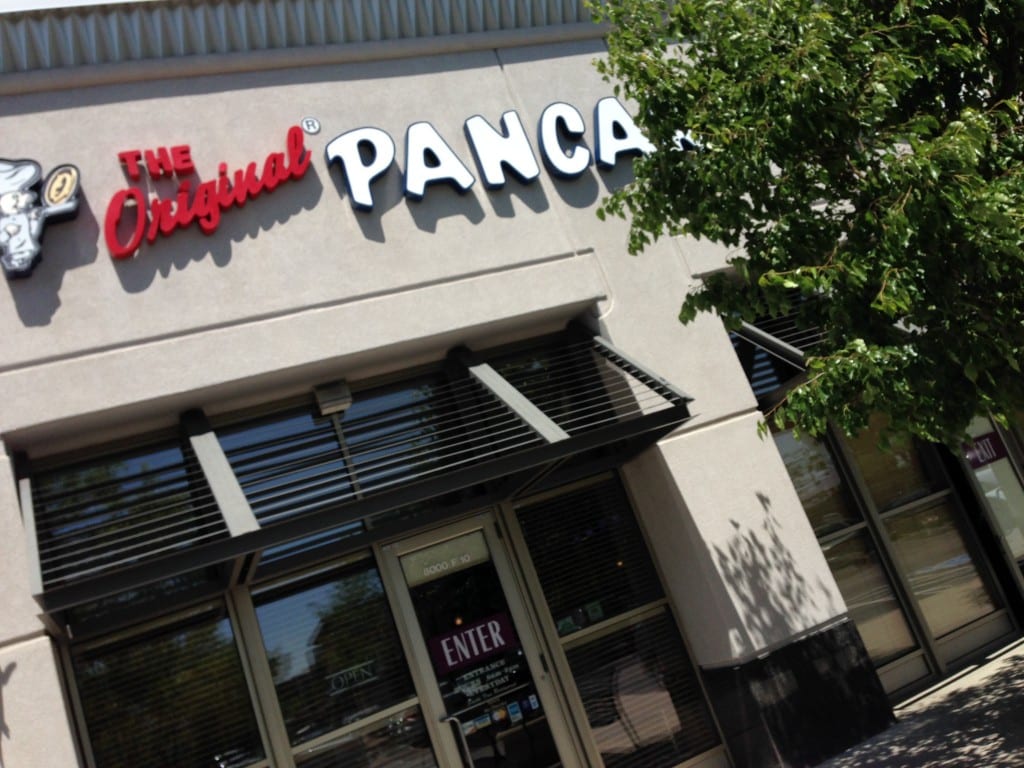 This is the Original House of Pancakes in the Denver Tech Center.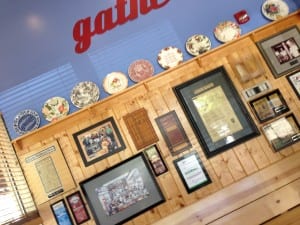 They have a lot of awards and the place is always packed. Today was no exception. They also have free coffee if you're waiting. We timed it perfectly. The waiting area was packed when we walked in, but just as we started drinking out free coffee, they seated everyone!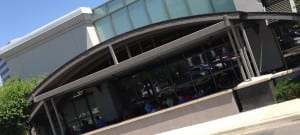 The morning was gorgeous, so we opted to sit outside on the patio.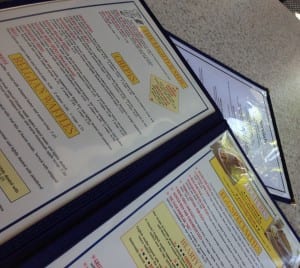 Now the OHOP is famous for all their choices and the sheer size of the portions.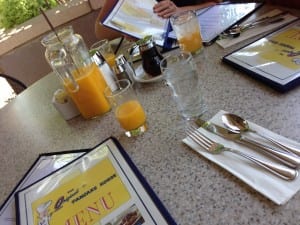 It took us some time to make a decision. But we did decide to start with the freshly squeezed OJ. Man, I forget how good fresh OJ tastes. Amanda told me that they had fresh OJ every morning while on their honeymoon in the South Pacific.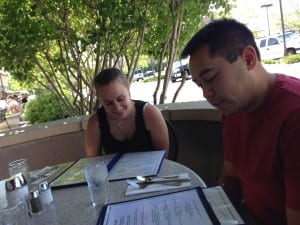 She said everyone was so nice and always said some greeting which sounded like "your honor" to them. And we discussed the amazing sunsets down there. Years ago I spent a vacation on Moorea in the South Pacific and I've never seen sunsets like those. The sun shoots red streams out into the deep blue evening sky as it sinks into the sea. Words really fail to describe it. If you get the chance, go and see it for yourself. Oh, when I visited Moorea I never heard "your honor." It is French Polynesian so the girls all said "bonjour" and that worked just fine for me.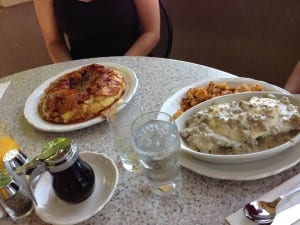 Well, DTC can't match the South Pacific sunset, but we do have the OHOP. Amanda got their Apple pancake, which is more of a soufflé. Mark got the Mile High, a combination of eggs and sausage patties on a biscuit smothered in gravy, with a side of home fries. They split these two gastronomic delights between themselves.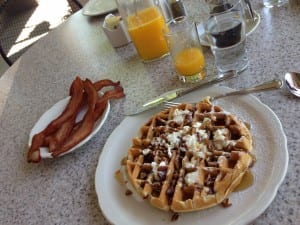 As for me, I had the Pecan Belgium Waffles with a side of bacon. Do you see the size of that bacon? That's what you call thick. None of us were able to finish our plates. I did finish the bacon. No way I'm going to let that go.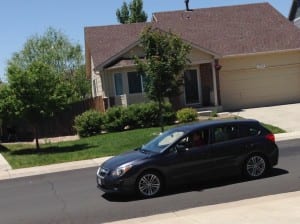 Alas, Mark and Amanda had to return to the Springs, but we discussed Mark's brother's plans to come out for a visit in July. Stay tuned.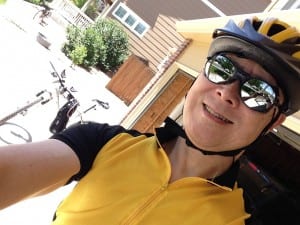 After a meal like that I decided a little bike ride was in order. Now, I like to ride when it is hot, mid-80's or higher and today it hit the 90's. So I filled a CamelBak with ice and Gatorade and headed out.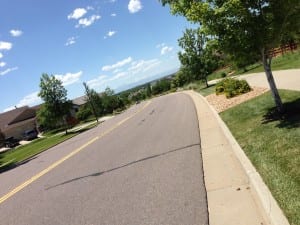 This is how my ride starts. Do you see that gentle sloping road? I come back this same way, and believe me after 15 or 24 miles, coming back up that gentle slope is brutal.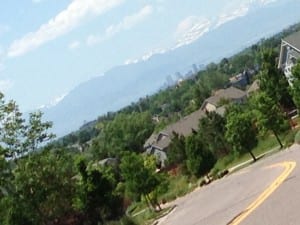 It does provide a nice view of downtown Denver. That's 24 miles away by car.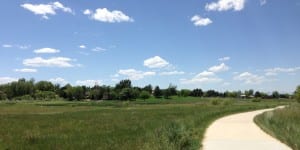 The trail I take leads from my home over to Cherry Creek Reservoir. It follows along a creek greenbelt and past a few man-made ponds.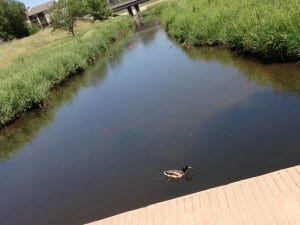 The ducks love these little creeks. With all the ground cover it must be a great place to raise a duck family.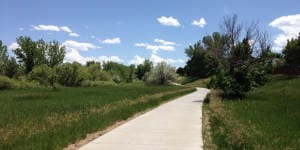 It's hard to believe that this cuts right behind a neighborhood. It looks beautiful.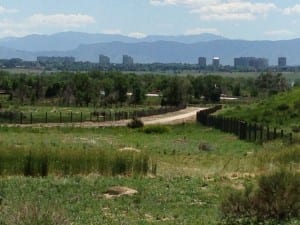 Ah, this is a view of DTC from prairie dog hill. It's official name is the Cherry Creek Spillway but let's be honest the prairie dogs rule this area.
These little guys will eat away all the grass around their holes or towns. You see the beginning of a prairie dog town on the left and the sentry sitting there barking at me next to his hole. But you see all that green grass behind him? It has rained a lot recently. This is the most grass I've ever seen on prairie dog hill. I expect that by mid-summer the dogs will have chewed down the grass, but for now, they have their work cut out for them.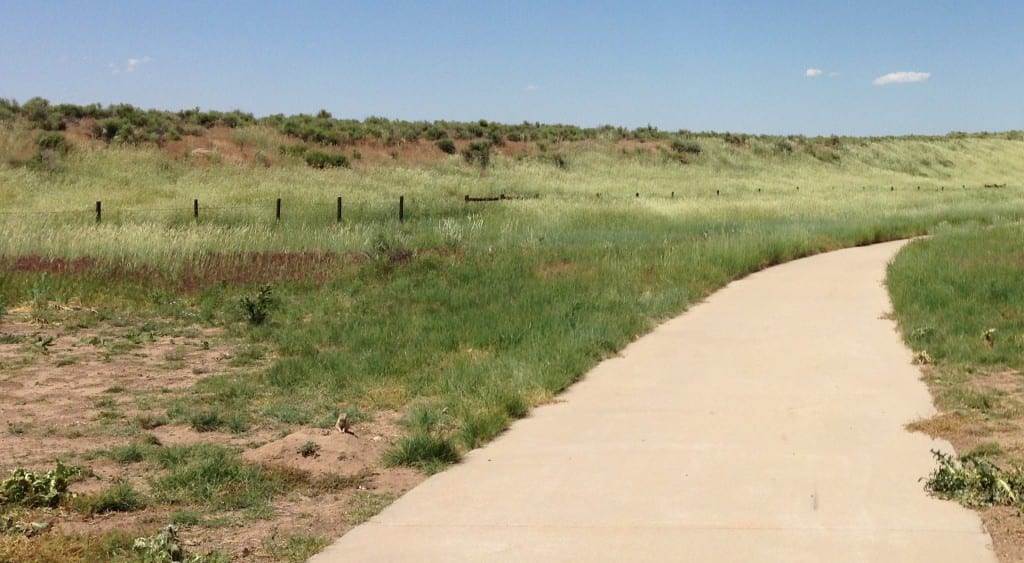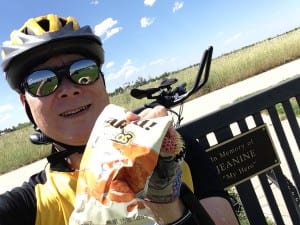 Mid-way through my ride I stop for a snack. Cheetos are the perfect biking food. They're pretty much pure carbs and salt, just what the doctor ordered.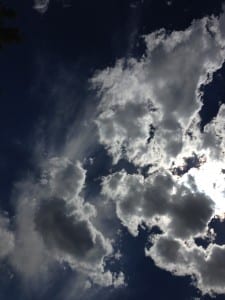 I'm sitting on a bench dedicated to "Jeanine-My Hero." It's a touching tribute and it makes me wonder more about who Jeanine was. But I realized that no matter how much you might write, it would never be enough, or do a loved one justice. When it comes to love, words fall short, and can't adequately describe how those close to us affect our lives.
I recently reconnected with an old law school buddy of mine. Neither Mike nor I look like this anymore, but it's a good photo, and a great memory. He still lives out in LA and I don't know when I'll ever get back there to see him, but it was good catching up. So enjoy your friends and family as much as you can, because it all passes by too quickly.